1. Resilient Youth in Stressed Environments (RYSE, 2017-2021)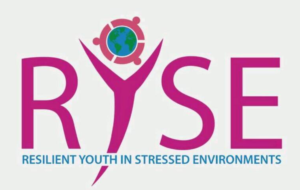 Overview
Oil and gas production and climate change have large impacts on social, economic and environmental systems that affect young people's mental health and overall wellbeing. To better understand these complex relationships at both ends of the carbon cycle (production and consumption), the five-year multinational CIHR funded Resilient Youth in Stressed Environments (RYSE) research project will study the resilience of young people in Canada and South Africa.
Core Research Team: RYSE is a collaborative research project coordinated by Dr. Michael Ungar (Resilience Research Centre, Dalhousie University) and Dr. Linda Theron (University of Pretoria, South Africa), along with strong support from colleagues from diverse disciplinary backgrounds such as Dr. Robin Cox (ResilienceByDesign Lab, Royal Roads University), Dr. Allyson Quinlan (Resilience Alliance), and Dr. Steve Reid (Primary Health Care Directorate, University of Cape Town), among many others. An intersectoral team in each community includes youth, industry, government and academic partners.
Research Sites
Drayton Valley, Alberta Canada, is a community of approximately 7,000 people southwest of Edmonton that relies economically on oil and gas extraction/production and is affected by boom and bust cycles and changes to the social and physical environments related to those industries.
Cambridge Bay, Nunavut Canada, is the largest community in the region with a population of approximately 1,700. It is facing dramatic changes in climate (ice melt in the Arctic) affecting the social and physical environment.
Secunda, Mpumalanga Province, South Africa is home to almost 40,000 people and houses multiple oil and gas production industries. It is a key operating hub for Sasol, South Africa's largest energy producer. It has been severely affected by drought. Therefore, both oil and gas production and climate change are active stressors on young people's lives.
Research Timeline (April 2017- March 2022)
This five-year multinational project consists of overlapping research activities. In each community, the design of these activities is informed by the priorities established by community and youth partners.
Years 1: Community engagement and youth-centric participatory research and advocacy. We will use a range of participatory qualitative methods (such as: photovoice, digital storytelling, play, and arts based multi-media approaches) to identify and explore the contextually and culturally specific impacts of oil and gas extraction and climate change on young people's resilience and that of their communities.
Years 2-4: (a) A youth-informed resilience survey will be conducted that asks questions about (1) youth's perceptions of both oil and gas industries and/or climate change and the impact of these, as well as their experience of exposure to social, economic, and natural environmental stressors; (2) youth-relevant resilience strategies; and (3) psychosocial health indicators and outcomes. (b) Collection of a stress biomarker and intergenerational effect from an assay of hair cortisol and DHEA levels will be tracked over time. (c) With young people as citizen scientists, we will conduct assessments of environmental resilience that include identification of monitoring points in relation to potential pollution sources affecting water and air quality. Long-term fluctuations in various pollutants that impact environmental health can then be statistically evaluated for trends. (d) In collaboration with local youth, and under the mentorship of the research team, assessments of each community's resilience will be conducted through interviews and focus group discussions with elders to investigate economic development, social and cultural capital, communication patterns, and community competence when dealing with crises.
Year 5: Data analysis with an emphasis on seeking convergence in the findings. Strong emphasis will be placed on developing training materials and reporting back to communities and the funder.
Knowledge Translation (KT)
Knowledge Dissemination and Exchange: Various channels of dissemination will be used to share and promote the findings. This includes traditional (e.g., newsletters, peer reviewed publications, local and international academic conferences) and less traditional (e.g., social media, use of video- and audio-podcasts, youth generated strategies, tv/media) KT activities to promote knowledge uptake and utilization. Research result will help to inform: (1) the development of programs for families, schools and youth-serving organizations; (2) public health, community planning, and relevant policy briefs and community-based initiatives to share findings; and (3) collaborative strategies for communities and industry partners to improve youth and family wellbeing.
2. Extended Pathways to Resilience Study
Dr Angelique van Rensburg and Prof Linda Theron and a team of local research assistants are replicating the original Pathways to Resilience mixed methods study in the Vaal Triangle. Three waves of data collection (2015, 2017, 2018) have been planned. Whilst the team waits to collect the third wave of data, they are comparing the data generated in Wave 1 and Wave 2.
3. Networks for Change and Well-being: Girl-led 'from the ground up' policy-making to address sexual violence in Canada and South Africa
In this bilateral study, lead by Prof. Claudia Mitchell (McGill University) and Prof Lebo Moletsane (UKZN), my role relates to using visual methodologies to give voice (as it were) to the stories of resilience that form part of why some young women cope well with sexual abuse. Our aim is to use the knowledge that young women produce to galvanize policy change and champion the wellbeing and protection of young women.